HIKE IN MT. PARNITHA SOUTH SIDE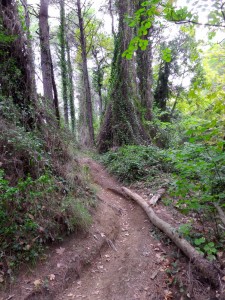 On Saturday the 26th of November at 11.00 a.m. we will meet each other to participate in a welcome … hike for the season 2016 – 2017.
The hike will take place at the south-east slopes of Mt. Parnitha through forested paths on a quite easy, but rocky in parts, terrain. It will take about four hours excluding stops and an hourly break for coffee, lunch or even … meal at " Flabouri refuge ". Its level of difficulty is medium because of ascent's height difference, almost 600 m, and its duration. Further most point will be " Koromilia " place depending also of team's efficiency.
Hiking boots, trekking poles, raincoat and reliable equipment generally are always highly recommended. For any case don't forget also your head-torch !
Meeting point is at the end of ' Kastorias ' street where the base of the mountain. From ' Thrakomakedones ' square at ' periptero ' take the avenue north to the church ' Agia Triada ', drive then left at ' Megalou Alexandrou ', then continue ' Veroias ' and finally turn left at ' Kastorias ' where is also a bus stop for number 724. At the end of this road after 4,5 km from ' Platia Thrak… ' is the beginning of the trail at an altitude of 570 m.
Estimated time of return: 5:00 pm.
For those who are interested in participating, please let me know until 25th mid-day. Leader will be Georgos Foteinos, e-mail geoplanf@otenet.gr               Emergency phone 6945 386255.
See you soon !
Georgos and Anna
Important notice : Keep in mind that if you participate in an Athens Strollers and Hikers walk or hike, you do so for your fun and your pleasure at one hand but entirely at your own risk at the other. The Athens Strollers and Hikers is an internet social club and neither the organizers nor the leader are responsible for the safety of those taking part. For more information about that please refer to the ' Declaration of Tyrol '.
Difficulty grades
WALKS:
Easy walks : 1 – 1,5 hrs       and height differences up to 100 m
Medium walks : 1,5 – 2,5 hrs         and height differences up to 250 m
Hard walks : 2,5 – 4 hrs      and height differences up to 500 m
HIKES:
Easy hikes : 3 – 5 hrs           and height differences up to   500 m
Medium hikes : 5 – 7 hrs     and height differences up to   750 m
Hard hikes : 7 hrs and up    and height differences 750 m and up
Invitation: Anyone who likes to lead a future walk or hike please announce to us by e-mail referring to the place and the time and we will arrange all the details together with you.