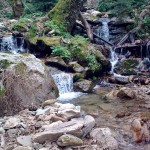 Here is an exciting idea for an outing by members and supporters of the Athens Strollers. Please study it and write back (xenophon@athens-strollers.gr) with your intention and thoughts. This excursion will be led by Xenophon.
Overview
A Sunday trip, by car, to the picturesque village of Steni in Central Evia. Steni is on Mount Dirfys and on the side of a beautiful river. The excursion involves driving to the venue in our cars, a 4-hour hike (3 hours of pure walking and up to 1 hour for catching up and stops) and a rewarding meal. We start with a 40-minute strenuous climb up on the slopes of Mount Dirfys, to reach the refuge (Katafygio) at 1120 meters elevation. We will pause at the refuge (provided it is open), for a drink. From here on, the rest of the hike is all downhill. The walk will take us down by the riverside (see photo), where we will pause to give us time to 'play with/ rest by the water'. The final one hour of the hike is along the river and involves us stepping on stones to cross the river several times (you are advised to carry with you an extra pair of socks, just in case you step in the water). The meal will be at a taverna in Steni, before we drive back. Good hiking shoes (not gym shoes) and walking sticks are recommended. 
When
Sunday 18 April 2010 
How to get to Steni
Steni is the village where we park our cars and from where we set off for our walk. It is ~85 km from the 1st toll station out of Athens, on the Athens-Lamia National Road (Ethniki Odos). Get on the Athens-Lamia National Road. When you reach the 1st toll station (at Afidnes), zero your odometer as you pay. Drive along. After 31.7 km, you pass a toll station, which does not require payment. Take the right lane after this. At 33.1 km, leave the National Road, take the right exit, towards Halkida (the capital of Evia). Drive along the principal road. At 44.7 km you reach an imposing modern bridge. This is the new bridge of Halkida. Get on the bridge and drive on. At 47.8 km you reach traffic lights. Go straight ahead. At 48.3 km you pass under an old aquaduct. At 49.4 km you reach traffic lights. The coast is in front. Turn right here and drive along the coast. At ~54 km you enter the village of Artaki. The road is lined with shops on both sides. Drive carefully. At 55.0 km you turn right. The blue road sign indicating Steni has faded colours. Zero your odometer here. Drive along the main road. At 13.7 km you are at a junction, approaching the village of Katheni. Ignore the sign asking you to go left, even though it is marked Steni. It involves a new by-pass road, which is not yet finished. Go straight, and drive through the village of Katheni. At ~23 km you enter the village of Ano Steni (Upper Steni), which is our destination. Slow down and look out for a wooden sign "Kissos", on your right hand side. This is our taverna. It has outdoor seating on the right, overlooking the river and indoor seating on the left hand side of the road. Drive past "Kissos". Soon after, you see a row of tavernas on your right hand side (also overlooking the river) and rocks which have fallen and are blocking the return lane. Drive past this and after ~500 meters look out for a yellow sign on your right hand side, marked Σ2 and Σ3 (sigma 2 and sigma 3). These are names given to trails. Park your car here. 
Perfect outing for family members who do not like to walk
This is a perfect opportunity for your spouse/partner and close friends, who want to enjoy their Sunday out of Athens with you, without the exercise. Anybody who does not wish to walk, may stay behind in the village of Steni. There, you may spend the time at the taverna (it operates as a cafeteria outside dining hours), stroll around for as long as you choose or read your book. 
The car trip
We take our cars. It is sensible to take full cars. This means that everybody who registers for the trip, please indicate how many free passenger places you have. Closer to the day, we will make contacts to agree who takes their car and who the passengers per car are.
The walk
This is described above. 
Walk not suitable for
The walk is suitable for all, except kids below the age of 6 years. These are likely to get tired and ask to be carried. Also, bear in mind that you will have to cross the river several times, stepping on stones.
What you may expect to see and hear
The area is rich in vegetation, with lots of plane trees (platania). The water flowing in the river makes a very pretty sound, to accompany our walk.   
Meeting point
We meet at the trail, as described above: where you see a yellow sign on your right hand side, marked Σ2 and Σ3.
Times
It is very important that we stick to these times. Timetable as follows:
Allow at least 90 minutes driving from Athens to the walk start
Walk starts 9:00
We expect to have concluded the walk by 13:00
We expect to be sitting for a meal 13:30
We expect to be departing from Steni for the return trip 16:00
Estimated arrival time in Athens 18:00 
I don't have a car/ I don't like driving alone
Xenophon is willing to help in these cases. To help him, it is important that everybody coming provides the requested info as outlined here. For cars meeting in Athens, to pick-up other strollers and for strollers without a car, the meeting place is Kifissia metro station and the time of departure is 7:30.
Cost
There is no charge for participating.
Drivers will have to accept the cost for the petrol, for the trip. It is up to the passengers per car, to arrange to share petrol costs or not. You will also pay for your meal at the taverna in Steni.
The taverna in Steni
After the hike, we will sit down for a meal at a nice taverna in Steni. It is named "Kissos". This provides a good choice of good quality meals, at reasonable prices. We will eat a set meal, as usual. Anybody who wishes to order further or apart, may do so.  
I like it, what do I need to do now?
Please consult with your family members and reply to Xenophon. Please note that you are not obliged to reply, you may simply show up on the day. Nevertheless, it will help the organization if you can declare your intention at least a few days in advance.
In replying, please indicate a)your acceptance, b)if you have a car or need a lift, c)number of people you need a lift for, d)number of vacant seats in your car.